Pharma Franchise for Cardiac Diabetic Products– Arlak Corazon is a leading pharma franchise company for cardiac diabetic products. The company is committed for providing best quality drug range and medicines to the cardiac and diabetic patients and to our franchise partners. Arlak Corazon is an ISO certified company and one of a division of national award-winning pharma Franchise Company which offer 1000+ product range in 250+ cities the medicines are available in different dosages form which includes tablets, capsules, sachets, syrups, gels, powders, injectables etc.
The demand for Cardio and diabetic medicines are at the peak due to the increase in population and the awareness amongst people. As a reputed pharma company for cardiac and diabetic products, it is our responsibility to provide the best quality products to our customers. Our products range manufactured in GMP-WHO certified manufacturing units with the highest quality raw materials. Now Arlak Corazon has come up with an opportunity for pharma professionals and experts who want to invest their money in the pharma industry to establish their own pharma business.
We have a team of experts who always available to give you full information regarding pharma franchise so contact any time for more details. Email us at arlakcorazon@gmail.com or Call: + 91-7087571536/ 9115593636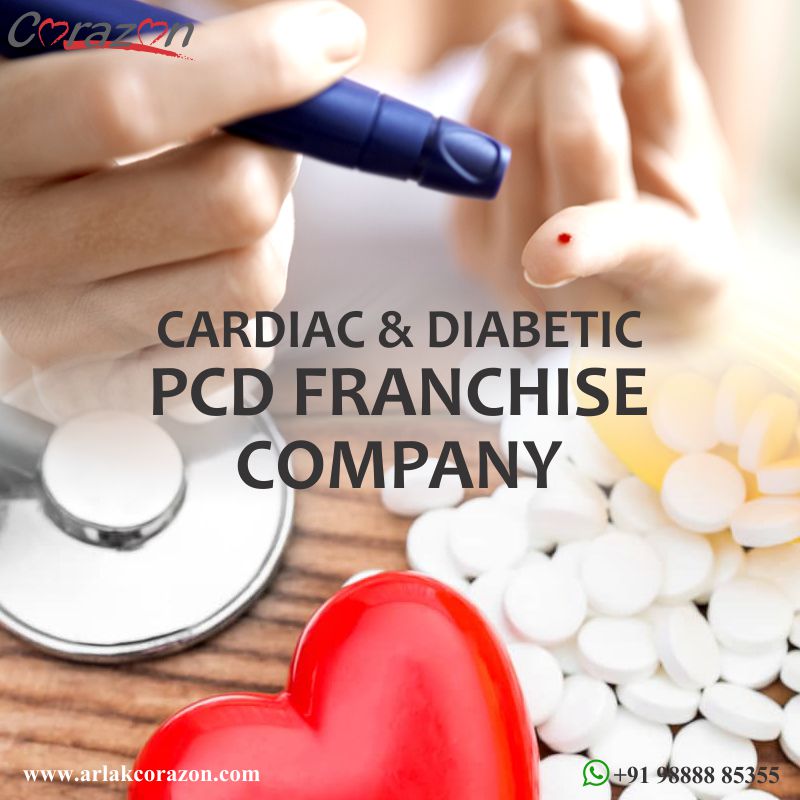 Arlak Corazon- Leading Pharma Franchise for Cardiac Diabetic Range in India
The scope and the market for cardiac and diabetic products are very huge due to its demand amongst people. Arlak Corazon offers you a wide range of tablets and capsules verified by DCGI, FDA, and FSSAI for pharma franchise all over in India. Our company believes in mutual growth with our franchise partners. Here are the benefits you can avail after becoming our franchise partner.
• Our company provides you attractive & flexible investment plans for all.
• We have our own GMP-WHO manufacturing units which are excise duty-free zone.
• Well equipped laboratories and manufacturing units for hygienic processing.
• A whole experienced and dedicated team of manufacturers, dealers, suppliers etc.
• Best quality controls and quality assurance measurements are followed by us.
Arlak Corazon- A Division of Arlak Biotech
Arlak biotech is one of the best pharmaceutical companies which delivery PCD pharma products to their customers. It has nine successive divisions i.e. Arlak Ayurveda, Derma Concept, Arlak Care, Soigner pharma, and Cardio-diabetic are taken by Arlak Corazon divisions. The formulations come under this division are specialize in healing heart and diabetes. The division is successfully contributing towards the needs of these patients to cardiac specialty clinics. Here is the list of medicines/ products owned by Arlak Corazon.
• CORABEST CAP
• ORLAK-120 cap
• NABWAR-5
• OLMEZON-H
• CORZE-Q 10 Cap
• PRILWIN-2.5
• MYSIMVAS-EZ
• CORAVOG 0.3 Tablet
• MOLD-L Tablet etc.
All the products are have been made using quality ingredients and accurate compositions and falls under the guidelines of DCGI and FDA.
Highly Skilled Logistic Team and Distributors
We have a team of highly skilled professional logistics executives who always ensure to deliver the products at the appointed time and place with our various distribution channels. All of them are the reliable & focused to make on time delivery at safe packaging. Our distributors are in very big and small cities of the country.
Area Covers:
Andra Pradesh, Arunachal Pradesh, Assam, Delhi, Mumbai, Bihar, Chhattisgarh, Goa, Gujarat, Haryana, Himachal Pradesh, Jammu and Kashmir, Jharkhand, Karnataka, Kerala, Madya Pradesh, Maharashtra, Manipur, Meghalaya, Mizoram, Nagaland, Orissa, Punjab, Rajasthan, Sikkim, Tamil Nadu, Telangana, Tripura, Uttaranchal, Uttar Pradesh, West Bengal
Contact for more details:
Address:-
SCO-6, Wadhwa Nagar Near Hotel Sun Park,
Zirakpur-140603,Chandigarh (INDIA)
Phone No:-
+ 91-7087571536 / 9115593636
Email:- arlakcorazon@gmail.com